Meet Caleb and Jester!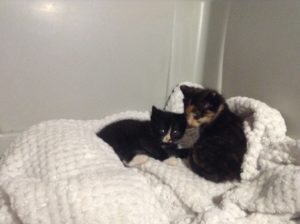 Found abandoned and starving in a parking lot, Caleb and Jester were only about three weeks old, but already weaned, as they'd had no mother and were doing their best eating whatever they could scrounge up on the streets. We tried (very unsuccessfully and over vehement objection from the kittens) to get them back on the bottle for the badly needed nutrition, but they would have none of it. They went straight onto wet food, which they appreciated immensely.
They arrived on April 11, 2018, were on solids two days later, and growing like weeds two days after that.
Caleb's hungry days left their mark, and he was very food aggressive and fearful of the dark. (Not to worry – BeeBee's House always provides a night light for their fosters!) His early trauma was a long time in fading, but he learned nice manners and that food was always available, and he would never again go hungry.
Baby Jester (as she came to be known, even when she was no longer an infant) soon forgot her days alone on the street and began putting on weight and cuddling as much as she could. She loved attention and toys, and always investigated anything new before her more timid (and bigger!) brother.
They stayed with BeeBee's House until the middle of May, when they were both old enough and big enough to be adopted. Baby Jester learned to tell her bigger brother where to stow his nonsense, and Caleb learned to be nicer to his tiny sister. They went to a wonderful home in Portland, Oregon, with a fantastic woman and her family. Caleb and Jester were wonderful to foster, and we are so proud of the cats they've grown into.