We had just gotten home from our planned absence and weren't due to go back on the call list for fosters for another three days (allowing time to recover from the trip/unpack/settle back in at home) when BeeBee's House got an emergency call about a litter of six newborn kittens abandoned by their mother in a rural home. The homeowner did the best she could for them through the night, then called the shelter the next day for help. The shelter called me, and I picked them up at less than 24 hours old. There were three orange boys, a tuxedo girl, a calico girl, and a black tabby with white cheeks girl.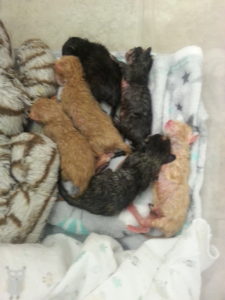 BeeBee's House has a policy of not naming kittens until they've passed the crucial 48 hour mark, which all of them did. We named them all after Marvel characters. After 72 hours, the black tabby kitten we called Natasha started showing symptoms of Fading Kitten Syndrome. We did what we could for her until we could get her to the vet the moment they opened the following morning, and they did their best for the next eight hours, but she was unable to recover. She was three days old.
The rest of the litter continued developing normally, except four days later one of the orange boys stopped putting on weight despite having a good appetite. 24 hours later, I sat with little Clint as he began to fade just like his sister Natasha had done earlier that week. He was only seven days old; he hadn't even opened his eyes.
We know Fading Kitten Syndrome is possible to beat when combated early, but despite our best efforts (even with the help of a veterinarian), it's usually not enough. We did our very best to help Clint, and all we were able to do was keep him comfortable as he passed. We are aware of the fact that two losses of such young kittens out of a potential six is a fantastic outcome, but it doesn't make it better. To lose Clint right after Natasha was a blow to our confidence in being able to foster neonates, but we had four others depending on us to care for them, which is exactly what we did.
Soon after Clint passed, the others began opening their eyes. First Peggy, then Wanda, then Steve, then Phil!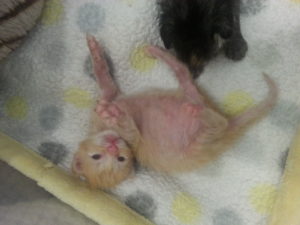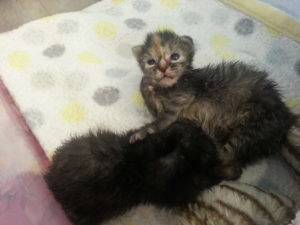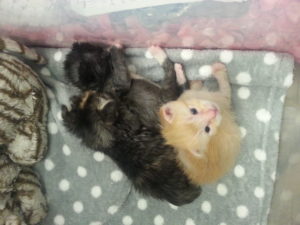 Soon after, they began toddling around.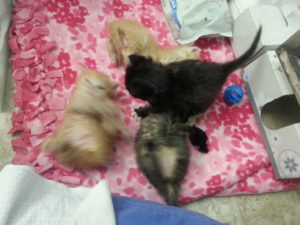 Then they learned to use the litter box and eat solid foods.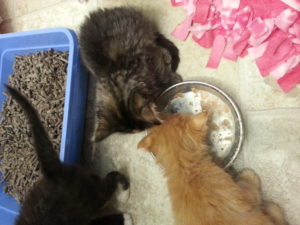 They grew and grew and played and played! (And napped — Steve loved his naps.)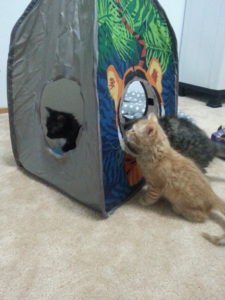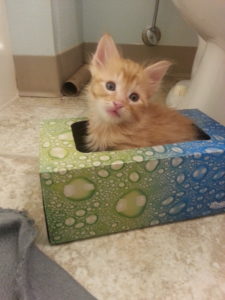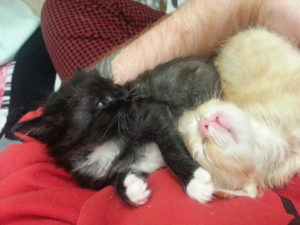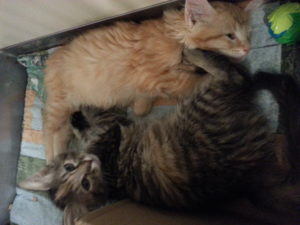 They ended up staying with us through the Thanksgiving holiday in late November, and went up for adoption at 10 weeks old in the second week of December. We usually return them at 8 weeks old, but as the shelter was closed for the holiday and Wanda hadn't quite made weight despite her age, they all stayed with us a bit longer. Not that we were complaining! We loved having the Marvels and we're so happy four out of six grew up healthy and happy.
Congratulations on your forever homes, graduates! Steve, Phil, Wanda, and Peggy!