The Air Crew had just flown out of BeeBee's House and they were supposed to be the last fosters for us as we had long-planned and unalterable out-of-town business to attend to. Emergencies are just that, though. We were getting ready to close down the kitten rooms when a call came in about a litter of nine found abandoned in a field. Now, nine is a very large litter (the average litter is 3-5 depending on a lot of things, though up to 10 is possible), so it was thought that someone likely dumped two litters of newborns at the same time. (THERE IS A SPECIAL PLACE IN HELL FOR THOSE WHO DUMP BABY ANIMALS TO DIE! There are options! People like me will care for them!)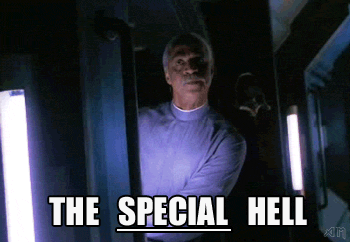 /rant
Four of the kittens had already died of exposure, but five were still alive. I rushed to the shelter to at least weigh and assess them, and found they were complete newborns — eyes still closed, umbilical cords still attached, still covered in effluvium. Clearly whomever had collected and dumped them (because their mom would NEVER have them out in the open like that, exposed and cold in a field) did so just after they were born. Plans or no plans, we had to take them as long as we were able. I packed them up and brought them home. Another foster who takes care of neonates was out of town but due to return before my own planned leave, so we did what we're here to do and cared for them for the ten days we had left before we had to go.
We named them after wildflowers since they were found in a field; three girls, two boys – Rowan, Fern, Petal, Nettle, and Bramble.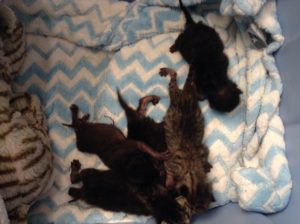 Everyone did well for the first three days. I went in to give them their usual evening feeding and found little Petal burning up with fever. We did what we could, but she passed away at 2AM of Fading Kitten Syndrome — a fast and highly lethal set of conditions that are unpreventable, unpredictable, and very hard to beat. It comes on suddenly without warning and is heartbreaking to help a kitten fight through. We did our very best (even the vet comforted me the following morning, assuring me I did everything possible) but lost her. She was the first kitten I'd ever lost to FKS. We were devastated.
Despite our loss, there were others depending on us to care for them, and they continued to eat well and grow. They began to open their eyes right on time.
As they grew, the time to send them off to another foster home to finish growing up drew near, and we tried desperately to alter plans so that we could continue to care for them. Things didn't work out that way, so we passed them over to another wonderful foster who takes in bottle-babies. They were only two weeks old and would need a bottle for another three at least. I wrote the new foster a letter detailing their personalities, likes, and dislikes, and sent them on their way with their favorite blankie, some KMR kitten formula, and other supplies.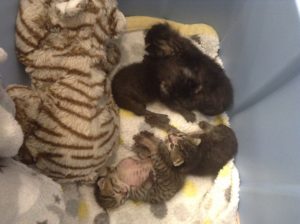 We missed them terribly and thought of them often, and kept an eye on the shelter when they were due to return for adoption. They knew I was waiting to give them hugs before they went to their forever homes, and I got a call when they were brought in. They were so big and grew up so beautifully!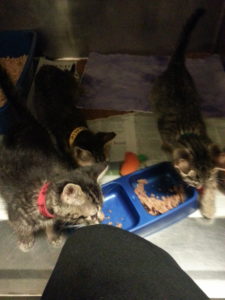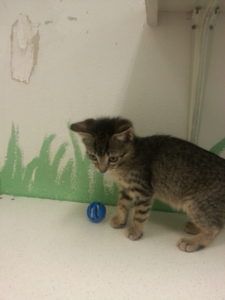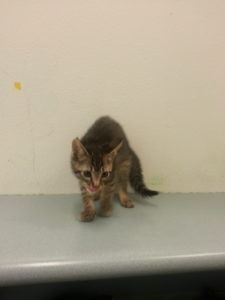 Special thanks to Patsy who fostered them during our absence! You did wonderfully, and we can't thank you enough!
All were adopted very soon after being returned to the shelter. We were barely home 24 hours from our planned absence with another three days left on the "out of town" roster when another emergency call came in….